Corporate Wellbeing
We help and support individuals and teams with stress and anxiety at work and help them build confidence and improve their self-esteem.  We deliver talks and workshops for employees both in the workplace and on-line.

On-line fee to support staff whether on furlough, working from home or in the office from £25 per employee. One hour group session to discuss stress management, adapting to coronavirus and take away practical self help tips to encourage good mental health.
One Hour Stress Awareness Talk
This talk is suitable for all staff. Read more >
Two Hour Interactive Stress Management Workshop
This 2 hour Stress Management workshop course is suitable for all staff,  covering all aspects of Mental Health First Aid and we can tailor make sessions to include working with teams and supporting Menopause in the Workplace.
Read more >
Mates In Mind Initiative for the Construction Industry
The National Counselling Society is running an initiative called "Mates in Mind" to help support mental health within the Construction Industry and Eyre Therapy is proud to be involved in this.
Discover More about Mates in Mind >
Talk to Us
If you would like to make a booking:-
Tel: 07850 868 711
Or send us a message >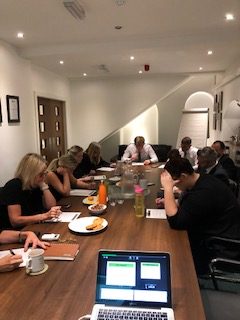 Some lovely words from our clients
"I was the test and feedback and my feedback is that Jacqueline Eyre Stress/Loss Specialist, Speaker, Published Author is just what we all need and all employers can support their staff with this well thought out offering to ensure productivity is good and the employees can keep themselves well and improve their mental health, then have a happier more fulfilling life. Thank you Jacqui" Also, she is a very talented lady! Kate"
Kate Fox, Design, Brand and Marketing Strategy
"The company I work for recently asked Jacqueline to undertake a stress awareness course for all employees. The course was very helpful and I personally learnt new things about myself as a person along with ways to reduce my stress levels in the future. Would highly recommend."
Nicola Woods, Workplace Consultancy, OBI
"I have recently participated in a company group Stress Awareness Course and Jacqueline was fantastic in presenting the stress relieving techniques to us as a group. Looking after your mental health and wellbeing is so important, especially in today's unprecedented times where stress, loneliness and inactivity are active in a lot of peoples' lives right now. I can't recommend Jacqueline more highly enough."
Debbie Meredith, Transactions & Asset Management, OBI Property
"Jacqueline delivered a stress awareness workshop to the team and it was greatly enjoyed.  There were a number of lightbulb moments as we recognised the symptoms of stress and a great exercise to identify the areas of our lives that might need attention.  The practical techniques that we practised were simple and easy to adopt and its great to look around and spot people doing the breathing exercises at points during the working day.  I am aware that some of the exercises have translated into people making practical changes in their lives and using the workshop as a spring board for positive change in the future.  We appreciated how were able to fully engage in the workshop, without having to share personal information or experiences.  Very much a worthwhile investment in yourself and your staff."
Financial Planning Business, Northwich